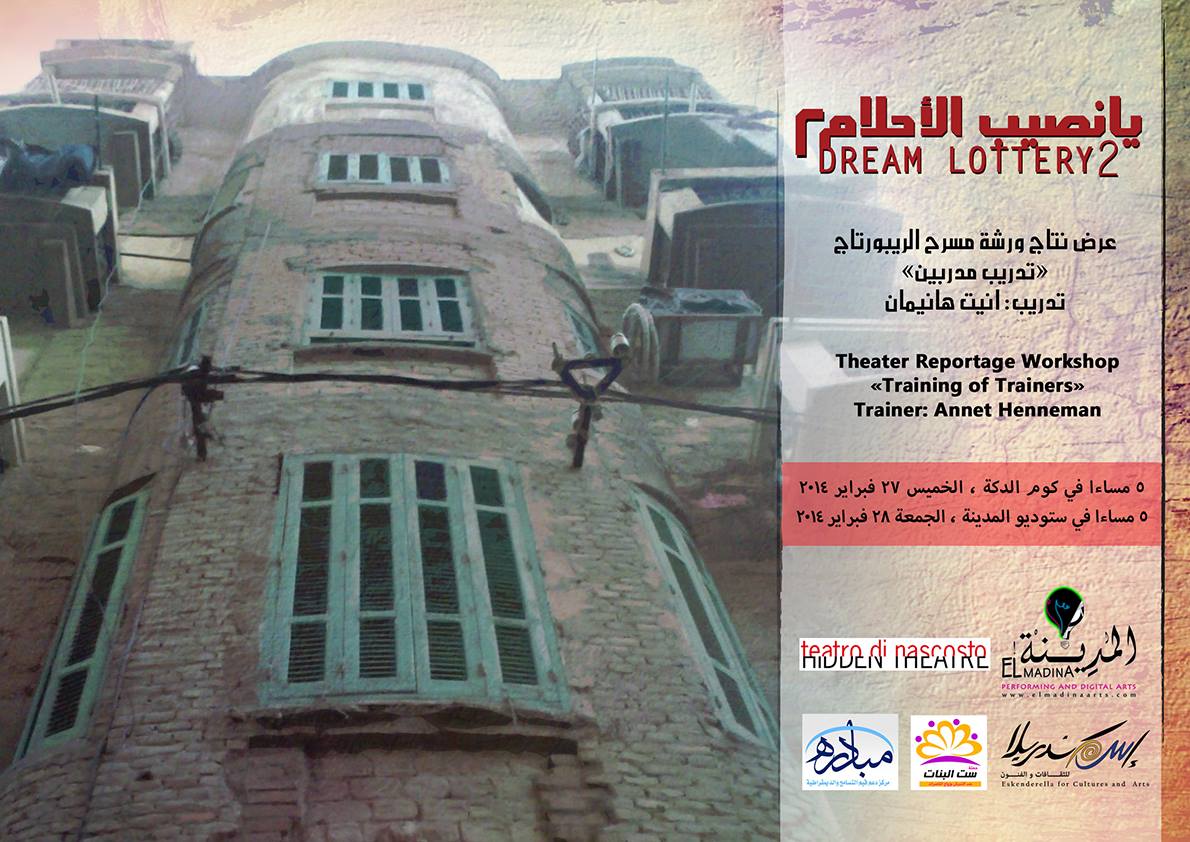 Date
27 - 28 Feb 2014
Expired!
يانصيب الأحلام 2 – نتاج ورشة مسرح الريبورتاج – Dream Lottery II – Presentation of Theater Reportage Workshop
عرض (يانصيب الأحلام 2) – نتاج ورشة مسرح الريبورتاج، بالتعاون مع تياتروا دى نسكوستوا – ايطاليا
تدريب واخراج : انيت هانيمان
الخميس 27 فبراير الخامسة مساءا قهوة توتو بكوم الدكة ، الإسكندرية
الجمعة 28 فبراير الخامسة مساءا بستوديو المدينة ، الإسكندرية
مسرح الريبورتاج:
هو مسرح يعتمد على تجميع القصص الحقيقية من الناس الذين ليس لديهم صوت، الذين يعيشون فى مجتمعات يسيطرعليها الظلم والحرب أو الفقر المدقع؛ للبحث وإعداد المنتج الفنى، والسفر للعيش مع هؤلاء الناس، لتبادل الخبرات والمشاكل وللتضامن معهم
ورشة تدريب المدربين على مسرح الريبورتاج تنظيم مؤسسة المدينة للفنون الادائية والرقمية و تياترو دى ناسكوستو بالتعاون مع موسسة اسكندريلا للثقافات والفنون ، مركز غاندى للسلام، الحكومة الاقليمية لتوسكانى، حكومة مقاطعة بيسا، جامعة الامل ببغداد كلية الفنون الجميلة في الفترة من 8 إلى 28 فبراير الاسكندرية، مصر
Dream Lottery II – Theater Reportage Workshop Presentation in collaboration with Teatro Di Nascosto – Italy
Directed by : Annet Henneman
Thursday 27 February, at 5:00 PM at Toto Cafe, Kom El Deka, Alexandria
Friday 28 February, at 5:00 pm at Studio ElMadina, Alexandria
Theater Reportage
Development of theater reportage, uniting theater and journalism to tell the true stories of people who do not have a voice, who are living out the consequences of war, oppression or desperate poverty; for the research and preparation, traveling to live with the people, to share and be in solidarity with them.
Theater reportage workshop training of trainers organized by ElMadina for Performing & Digital Arts and Teatro Di Nascosto in collaboration with Eskenderella for cultures and arts, Gandhi Peace Center, Regional Government of Tuscany, Provincial Government of Pisa and Al Amal University of Baghdad – School of Fine Arts. From 8 to 28 February Alexandria, Egypt.